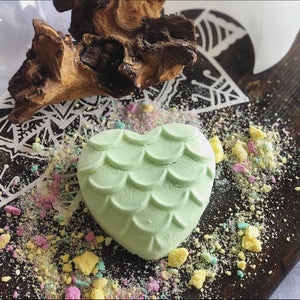 Discover the ultimate in bath time luxury with Meadows Mermaid Heart Bath Bomb, a premium quality bath bomb infused with a triple oil blend of two coconut oils and grape seed oil. This unique combination of oils will leave your skin feeling silky smooth and hydrated after a soak in the tub.

As you drop the bath bomb into the water, it will fizz and foam, releasing the divine scents of sweet orange and lemongrass essential oils.
These essential oils are not only heavenly scented, but they also have known benefits of relaxing and rejuvenating the body and mind. The Meadows Mermaid Heart Bath Bomb is perfect for those seeking a luxurious and pampering bath experience.
Ingredients: 
Sodium Bicarbonate, Citric Acid, Grape Seed Oil, Medium Chain Triglycerides, (Coconut Oil ) Organic Coconut Oil, Potassium Babrtitartrate, Essential Oils, Coco Betaine, Blue #1 Yellow #5.
All Hotsy Totsy Haus bath bombs are handmade in small batches in the USA.
Favorite
This is by far my favorite bath bomb!! I absolutely love the scent! Always great quality!
Amazing!
My daughter loves this one, she always begs to use this one for her baths. It smells like oranges but not too overpowering. Its perfect
Heard about you on the TODAY show. Had to give you a try. Delivery time was quick. Quality was really good and smelled good. Hope to purchase again soon.
Citrus-y delicious!
I love all the heart bombs! This was a tangy one and I was able to enjoy the bath!