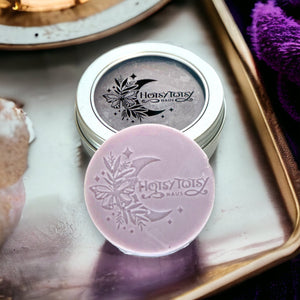 Introducing the Good Witch Lotion Bar – Where Hydration Meets Enchantment
Embark on a journey to unparalleled hydration with our all-over moisturizing lotion bar. This exquisite creation is a fusion of natural moisturizers like shea butter, white cocoa butter, almond oil, and argan oil, promising to cocoon your skin in silkiness, leaving it irresistibly soft and incredibly smooth.
Enchanted Aromatics:
Immerse yourself in the irresistible allure of vanilla, amber, palo santo, orchid, sage, and a delicate hint of patchouli and cinnamon cassia. This enchanting blend creates a fragrance that evokes the essence of a mysterious, alluring witch, bestowing upon you the power to be as good or as captivating as you desire.
Indulge in Hydration and Enchantment:
For the ultimate hydration experience, glide our Good Witch Lotion Bar directly onto your warm, clean, post-bath skin. Revel in the sensation of velvety softness. When not in use, store it securely to preserve its enchanting qualities.
Elevate your skincare ritual with the Good Witch Lotion Bar – where hydration meets enchantment, wrapped in a scent that empowers you to embrace your inner magic.