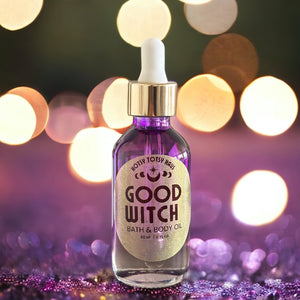 Step into Enchantment with Good Witch Bath and Body Oil

Scented in our best-selling fragrance, Good Witch, this irresistible blend is a symphony of vanilla, amber, palo santo, orchid, sage, and just a dash of patchouli and cinnamon cassia. The result? A scent that perfectly captures the essence of a sexy witch. The choice to be good or not? Well, that's entirely up to you!

Immerse yourself in the allure of Good Witch fragrance, a bewitching composition that dances with your senses, leading you to a world of enchantment. The marriage of vanilla and amber plays a tantalizing duet with palo santo, orchid, and sage. A whisper of patchouli and cinnamon cassia adds a touch of mystique to this captivating elixir.

Indulge your skin with a gentle embrace of nature's finest moisturizers as Good Witch Bath and Body Oil glides effortlessly, cocooning even the most sensitive skin in soothing luxury. A blend of premium ingredients, including Organic Aloe Vera Leaf Extract, Glycerin, Jojoba Seed Oil, and more, makes this elixir a true potion of indulgence.

Whether you're reveling in a sumptuous bath or adorning your skin post-shower, Good Witch ensures an infusion of moisture that lingers, embracing you with the same allure as the scent itself.

Observe as the elixir weaves its spell, seamlessly absorbing into your skin, leaving a radiant glow that mirrors your inner power. The fragrance, a symphony of temptation, lingers like a whispered incantation, forever reminding you of the magnetic charm you possess.

Housed in a captivating glass bottle, Good Witch Bath and Body Oil transcends its role as a beauty product—it's a declaration of self-love and empowerment, a tribute to your enigmatic nature.

Made with only the finest ingredients that your skin will love, such as Organic Aloe Vera Leaf Extract, Glycerin, Medium-Chain Triglycerides, Grape Seed Oil, Virgin Organic Argan Kernel Oil, Castor Seed Oil, Meadowfoam Seed Oil, Fragrance, Macadamia Seed, Oil, Olive Fruit Oil, Jojoba Seed Oil, Rice Bran Extract, Vitamin E, Rosemary Leaf Extract, and Sunflower Extract.
Our Bath and Body Oil guarantees to leave your skin feeling refreshed, hydrated, and silky-smooth, making it the perfect addition to your daily self-care routine.
Like all bath products that are made with oil, use caution because oils can make surfaces slippery.