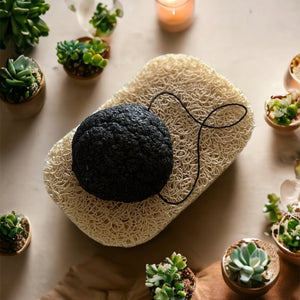 This Charcoal Facial Sponge is a luxurious and effective addition to your daily skincare routine. Made from the roots of the konyakku plant, it is infused with charcoal to help cleanse and purify sensitive and acne-prone skin.

To use, simply soak the sponge in warm water for 10-15 minutes until it puffs up and rehydrates, then gently rub in circular motions to cleanse and unclog pores. Press between your palms to remove excess water and hang to dry.
With proper care, this sponge can last for 3+ months, making it a cost-effective and eco-friendly option for daily use. Experience the difference of a deep clean with this unique and desirable facial sponge.