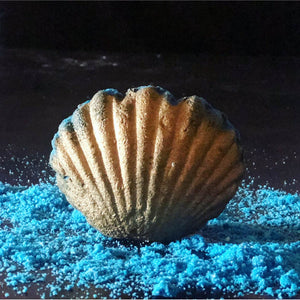 Blue Lagoon is your own private beach.
Gold shimmering deep blue water makes incredible bath art, bringing out the ultimate mermaid vibe. You'll love how foamy and fizzy this gorgeous bath bomb is. Scented in breezy sea salt, warm sugar plum, and sweet raspberry.  
Made with the finest Epsom salt, French clay, and the soothing oils of grape seed and coconut.
All Hotsy Totsy Haus bath bombs are handmade in small batches in the USA.
Favorite
One of the go tos when in the cupboard.
Please don't put me in the vault!!
Please keep this one in your catalog!!! It's too good! 😁
Makes you feel like a mermaid
Very fruity and fizzy. Molly loves this one and she grabs this one quickly. This is one of our favorites. Keep this one!
Fantastic product and service
I think it's easy for us to forget about doing business with small, private companies having fallen for big commercial brands with big flashy advertising. It's nice to buy from, support, someone doing what they love and making a good product.
One of my favorites!!!
Absolutely love the smell and feeling while soaking in the tub. My daughter steals this bath bomb when she can! The colors are a bonus!