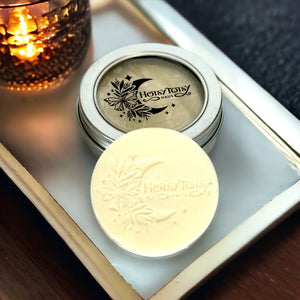 Introducing our Healing Moon All-Over Moisturizing Lotion Bar, the embodiment of luxury and natural skincare. This exquisite bar is your secret to maintaining silky, soft, and irresistibly smooth skin, the way nature intended.
Enriched with Nourishing Ingredients:
Our Healing Moon Lotion Bar is a symphony of nourishment, featuring Shea Butter, White Cocoa Butter, Almond Oil, and Argan Oil. These premium elements unite to offer your skin the ultimate hydration experience.
Scented in Healing Moon:
Immerse yourself in the soothing embrace of Healing Moon, a gentle and tranquil fusion of mahogany, calendula, rose absolute, and teak wood. Let this fragrance transport your senses to a state of serenity and peace.
Effortless Application:
For the utmost indulgence, apply the lotion bar directly to your warm, clean, post-bath skin. Revel in the sensation of softness without any hassle. When not in use, safeguard it in a container in a cool, dry place to prevent melting.
Perfect for the Aroma-Enthusiast:
Our Healing Moon Lotion Bar is designed for those who seek not only soft and smooth skin but also the calming and soothing essence of this exquisite scent.
Experience the healing and comforting benefits of our Healing Moon Lotion Bar, the ultimate choice for those in pursuit of a natural and luxurious way to moisturize their skin.