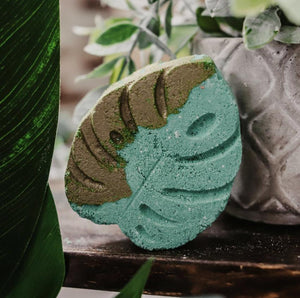 Unleash the rejuvenating power of nature with our Monstera Bath Bomb. Infused with a refreshing blend of cucumber, lime, and verbena essential oils, this luxurious bath treat is designed to help you relax, unwind and rejuvenate.
Our bath bomb is hand-painted with vibrant colors, featuring a deep green and gold shimmer that creates a mesmerizing bath art. As it dissolves in the water, it releases a silky foam that hydrates and soothes your skin, leaving it feeling luscious and supple.
Experience the ultimate spa-like indulgence as you soak in the vibrant colors and scent of our Monstera Bath Bomb. Embrace the self-care strategies of the resilient Monstera plant and let go of tension and stress. Make self-care a survival strategy and pamper yourself with the rejuvenating power of nature.
Awesome
I loved the rainbow of colors that came out of this one and the scent was very pleasant!
Champs products
Beautiful designed bath bombs.