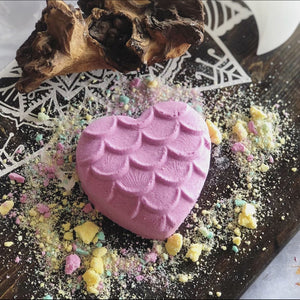 Unwind and relax with the Blossom Mermaid Heart Bath Bomb, a premium quality bath bomb infused with a triple oil blend of two coconut oils and grape seed oil. This unique blend of oils will leave your skin feeling silky smooth and hydrated after a soak in the tub.

As you drop the bath bomb into the water, it will fizz and foam, releasing the divine scents of pink grapefruit, ylang ylang, and geranium essential oils. These essential oils are not only heavenly scented, but they also have known benefits of relaxing, rejuvenating, and uplifting the body and mind.
The Blossom Mermaid Heart Bath Bomb is perfect for those seeking a luxurious and pampering bath experience.
Ingredients: 
Sodium Bicarbonate, Citric Acid, Grape Seed Oil, Medium Chain Triglycerides, (Coconut Oil ) Organic Coconut Oil, Potassium Babrtitartrate, Essential Oils, Coco Betaine, Red #33.
All Hotsy Totsy Haus bath bombs are handmade in small batches in the USA.