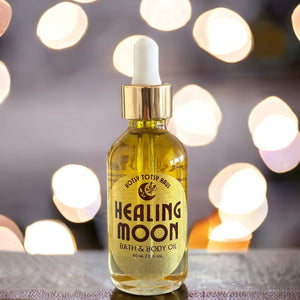 Embark on a journey of renewal with Healing Moon Body Oil - Your Nocturnal Elixir of Restoration!
Unveil the beauty of tranquility as you envelop yourself in the luxurious embrace of Healing Moon Body Oil. Designed to elevate your evening ritual, this body oil is a symphony of relaxation that pampers your senses and rejuvenates your skin.
Enriched with the finest natural moisturizers, this indulgent elixir delivers deep hydration, leaving your skin soft, supple, and caressed by the gentle touch of moonlight. Infused with a captivating blend of mahogany, calendula, rose absolute, and teak wood, the aroma envelops you in a sensory cocoon, fostering an ambiance of calm and serenity.
Whether you're unwinding before sleep or seeking a moment of solace, Healing Moon Body Oil seamlessly infuses your skin with moisture, ensuring a night of rejuvenation.
Experience the ethereal sensation as Healing Moon absorbs effortlessly, leaving behind a radiant, moonlit glow. The fragrance, a harmonious fusion of mahogany, calendula, rose absolute, and teak wood, evokes the tranquility of starlit evenings, inviting you to bask in its soothing allure.
Formulated with a meticulous selection of premium ingredients, including nutrient-rich oils like Jojoba, Evening Primrose, and Rosehip, Healing Moon promises an exquisite sensory experience that rejuvenates, soothes, and nourishes.
Elevate your self-care ritual with Healing Moon Body Oil and immerse yourself in the rejuvenating essence of the night. As with any oil-based product, exercise caution to prevent slippery surfaces. Embrace the allure of Healing Moon and let its soothing embrace renew your skin and envelop you in a sense of tranquility.
Product is packaged in a luxurious glass bottle.