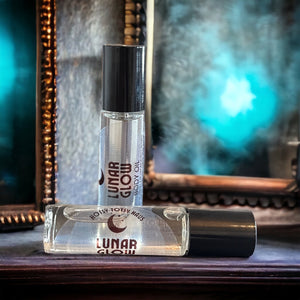 Introducing the Mystical Elegance of Lunar Glow Pocket Perfume Oil

Step into a world of enchantment with our Lunar Glow Pocket Perfume Oil – a journey that beckons you to embody the essence of the Moon Goddess herself. Crafted to elevate your self-care ritual into a celestial experience, this exquisite elixir unlocks a realm of captivating beauty and otherworldly indulgence in a convenient 10 ml size.

Immerse yourself in the enchanting aroma of Lunar Glow, a symphony of modern exotic florals and warm notes that transforms your senses. The seductive dance of Hydrangea, Orchid, and Calla Lily harmoniously blends with the sweet nectar of Orange, the lusciousness of Blackberries, the comforting embrace of Amber, and the sensual allure of Tonka Bean. With each breath, you embody lunar elegance and radiance.

Let the luxurious elixir caress your skin as it glides seamlessly, soothing and nourishing, leaving even the most sensitive skin pampered. Infused with a delicate selection of premium ingredients, including Organic Aloe Vera Leaf Extract, Glycerin, Jojoba Seed Oil, and more, this potion is a gift to your skin's well-being.

Lunar Glow ensures a lingering infusion of moisture that wraps you in ethereal allure, reminiscent of the Moon's soft glow.

Watch as the magic of this oil weaves around you, effortlessly absorbing into your skin, leaving a radiant, luminous sheen that resonates with your inner lunar energy. The Lunar Glow fragrance, an intoxicating blend, lingers like a whispered incantation, a reminder of your goddess-like presence.

Presented in an elegant 10 ml glass bottle, Lunar Glow Pocket Perfume Oil is more than a beauty product – it's a declaration of self-love and empowerment, a tribute to your lunar essence that you can carry with you wherever you go.

Embrace your inner lunar radiance today.