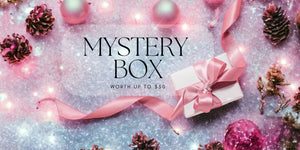 Discover the enchantment of our Mystery Box – a delightful surprise filled with treasures to elevate your self-care routine. Each box is a curated collection of our finest products, including bath bombs, soaps, nail lacquers, body scrubs, body butters, bath dust, body oils, bath accessories, and more. Valued at $35-$50, the Mystery Box is a limited-time offering that adds an air of anticipation to your pampering experience.
What's inside? It's a mystery! Embrace the thrill of the unknown as you unwrap a selection of luxurious surprises crafted with care. If you're already a fan of our products, this Mystery Box is a must-have, delivering a delightful assortment that captures the essence of our brand.
Treat yourself or surprise a loved one with the magic of our Mystery Box. Elevate your self-care journey with a touch of mystique – because sometimes, the most extraordinary things come from the joy of the unexpected. Available for a limited time, seize the mystery and indulge in the luxury that awaits within each box.
1. **Limited Availability:**
- The Mystery Box is available for purchase in limited quantities and for a limited time only. Availability is on a first-come, first-served basis.
2. **Contents Vary:**
- The products included in each Mystery Box are randomly selected and may vary. The total retail value of the box is guaranteed to be between $34 and $50.
3. **No Returns or Exchanges:**
- Due to the nature of the Mystery Box, we do not accept returns or exchanges. All sales are final.
4. **Exclusive Products:**
- The Mystery Box may contain exclusive or unreleased products not available for individual purchase. These items are specially curated for the Mystery Box.