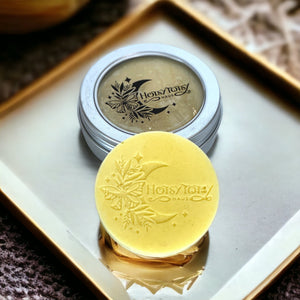 Experience Supreme Hydration with Our Sun Lotion Bar
Introducing the Sun Lotion Bar, your ticket to exceptional moisturization and a luminous complexion. Dive into a realm of natural luxury with a product that combines indulgence with nourishment.
Unparalleled Ingredients:
Our Sun Lotion Bar features a harmonious blend of all-natural moisturizers, including Shea Butter, White Cocoa Butter, Almond Oil, and Argan Oil. These premium ingredients work in unison to quench your skin's thirst, leaving it irresistibly soft, supple, and radiant.
Tropical Paradise in a Bar:
Transport your senses to a sun-soaked tropical oasis with each application. Infused with the captivating scent of sun-ripened mangoes, this lotion bar delivers an authentic sensory experience, free from artificial fragrances or clichés.
Easy, No-Fuss Application:
Elevate your skincare routine effortlessly. Glide our Sun Lotion Bar directly onto warm, clean, post-bath skin for instant hydration. It's the ultimate mess-free solution for nurturing your skin.
Convenient New Packaging:
Now, our Sun Lotion Bar comes with an added convenience – a sleek storage tin. When not in use, securely store your bar in this stylish tin, keeping it in a cool, dry place. Please exercise caution, as the lotion bar may create slippery surfaces.
Embrace a tropical paradise, rejuvenate your spirit, and reveal your inner radiance with our Sun Lotion Bar. It's more than skincare; it's an invitation to experience the sun-soaked tropics. Elevate your hydration routine today!