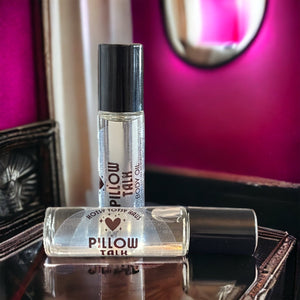 Experience Tranquility with Pillow Talk Pocket Perfume Oil - Your Oasis of Self-Care

Immerse yourself in the captivating allure of Pillow Talk Pocket Perfume Oil. Crafted to elevate your daily self-care ritual into a lavish spa escape, this 10ml elixir is a symphony of sensations that awaken your senses and rejuvenate your skin.

Enriched with nature's finest moisturizers, this luxurious elixir soothes and nourishes even the driest, most sensitive skin, sealing in hydration to leave you feeling soft, supple, and silkily hydrated. Infused with a masterful blend of toasted pistachio, almond, and sweet vanilla, the enchanting scent wraps you in an embrace of sensory delight, creating an aura of relaxation and elegance.

Pillow Talk ensures a seamless infusion of moisture, caressing your skin with a touch of luxury throughout the day.

Immerse yourself in the dreamy essence of Pillow Talk as it quickly absorbs into your skin, leaving behind a luminous, ethereal glow. The fragrance, reminiscent of toasted pistachio, almond, and sweet vanilla, evokes the enchantment of a whispered secret, a promise of indulgence that lingers.

Crafted with meticulous care and a selection of premium ingredients that your skin adores, including Organic Aloe Vera Leaf Extract, Glycerin, Medium-Chain Triglycerides, Grape Seed Oil, Virgin Organic Argan Kernel Oil, Castor Seed Oil, Meadowfoam Seed Oil, Macadamia Seed Oil, Olive Fruit Oil, Jojoba Seed Oil, Rice Bran Extract, Vitamin E, Rosemary Leaf Extract, and Sunflower Extract, Pillow Talk promises an exquisite sensory experience that revitalizes, refreshes, and revitalizes.

Packaged in a luxurious 10ml glass bottle, Pillow Talk Pocket Perfume Oil captures the essence of elegance and self-care.

As with any oil-based bath product, exercise caution to prevent slippery surfaces. Embrace the allure of Pillow Talk Pocket Perfume Oil and elevate your daily routine with a touch of sophistication and rejuvenation that lingers like the sweetest of whispers.