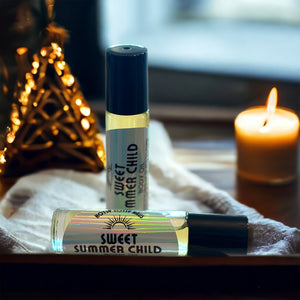 Experience the tranquility of moonlit nights with Sweet Summer Child Pocket Perfume Oil by Hotsy Totsy Haus. This 10ml body oil is crafted to elevate your daily ritual, wrapping you in a luxurious embrace of serenity and relaxation.
Enriched with the finest natural moisturizers, this indulgent elixir provides deep hydration, leaving your skin soft, supple, and delicately scented. The captivating blend of sweet orange essential oil and vanilla creates an aroma that's reminiscent of the sweetest honey, allowing you to indulge your senses in blissful tranquility.
Seamlessly absorbing into your skin, Sweet Summer Child Pocket Perfume Oil leaves behind a radiant, sun-kissed glow. The fragrance, a harmonious fusion of sweet orange and vanilla, invites you to bask in its soothing allure, evoking the warmth of a summer's day.
Formulated with a meticulous selection of premium ingredients, including nutrient-rich oils like Jojoba, Evening Primrose, and Rosehip, Sweet Summer Child promises an exquisite sensory experience that rejuvenates, soothes, and nourishes.
Packaged in an elegant 10ml glass bottle, Sweet Summer Child Pocket Perfume Oil adds a touch of sophistication to your daily routine. Elevate your self-care ritual with this pocket perfume oil and let its soothing embrace envelop you in a sense of serenity and sweetness.
Embrace the allure of Sweet Summer Child Pocket Perfume Oil and let it rejuvenate your skin and immerse you in the essence of a sunlit day. As with any oil-based product, exercise caution to prevent slippery surfaces.